The Dec Scanner is ideal for carrying out moisture testing to ASTM D7954.
Dec Scanner is available to buy in increments of 1
Non-Destructive Electrical Impedance Scanner
The Dec Scanner is ideal for carrying out moisture testing to ASTM D7954, designed to perform instant, continuous scanning over a large roof area while being able to detect as little as 2% excess moisture to a depth of up to 6 inches, covering as much as 100,000sq ft in a normal working day. Multiple ranges of sensitivity provide the capability to scan a wide range of roof construction types, allowing inspection of even very thin structures. There is no need for a special permit and transport by road or by air is simple with our flight ready case.
Designed for non-destructive testing of built up roofing
Able to detect as little as 2% excess moisture
Instantaneous, clear indications of roof conditions
3 scales of operation for all non-conductive roof membranes
Continuous operation for uninterrupted coverage
Locates boundaries of wet areas in minutes
More than twice as fast as nuclear meters, able to test thinner roofs, and no license required
A fraction of the cost of airborne and on the roof infra-red systems
Easy to use, no training required
Dependable solid state circuitry and foam-lined aluminium sided flight case for long-term reliability
Features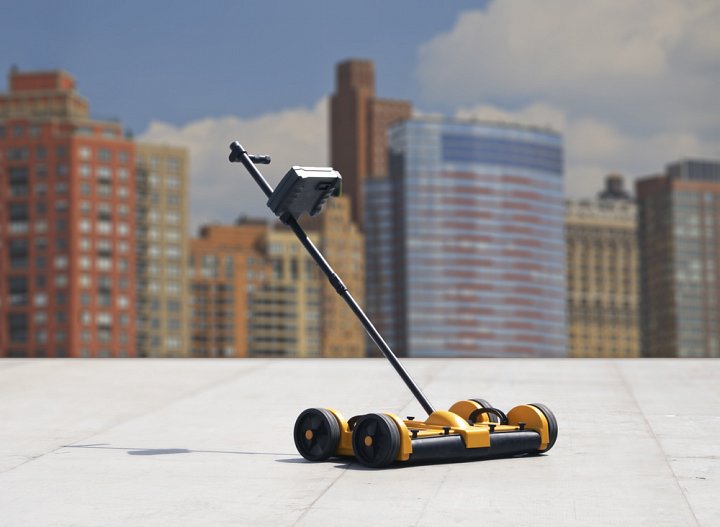 Moisture Scan up to 100,000 sq ft in 1 day.

No need for special user permit.

Transportation simple by road or air.

Can be used for inspection during business hours.

No need to clear the buildings occupants
Learning
No special operator's license is required to use the Dec Scanner. Training is indispensable but uncomplicated and the basics can be learned from our series of instructional videos and manuals.
As with all tools, the Dec Scanner is as good as its operator and nothing can substitute for experience and common sense.
Press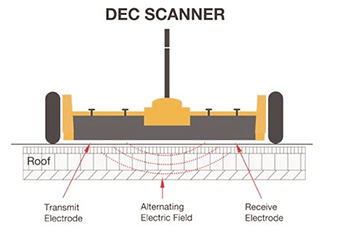 "Plumbing the depths: Improved test equipment for today's flat roof design."
Article by Paul Franklin, technical manager at RAM Consultancy RCI Magazine Feb 2015
"The Electrical Capacitance Meter is used to assess the presence and spread of moisture in a roof. The most widely-known unit is called the 'DecScanner', which has been in use in the UK and North America for around thirty years…"
Specifications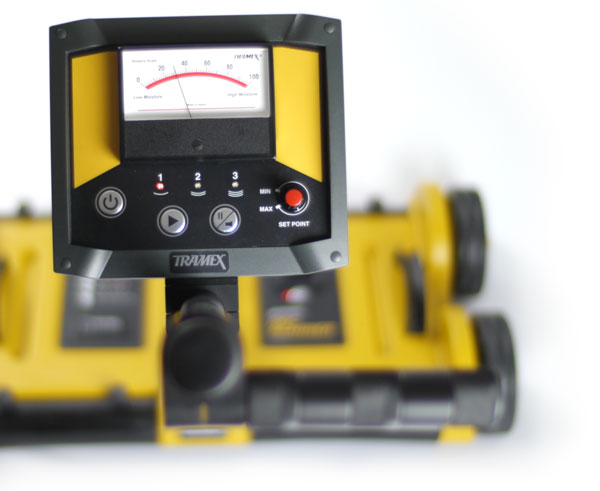 Scanning Area: 24"W x 15.5"D (609mm x 394mm)
Maximum depth of penetration: 6" (152 mm)
Display: Analogue
Measuring Range: 0 to 100 Comparative
Dec Scanner dimensions: 30"W x 153⁄4"D x 61⁄4"H (762mm x 400mm x 158mm)
Carry case dimensions: 38"W x 20"D x 12"H (940mm x 508 mm x 305mm)
Dec Scanner weight: 24.6 lbs (9.95 Kg)
Total weight (inc. case): 46.5 lbs (21.1 Kg)
Power Supply: 2 × 9 Volt PP3 Batteries (included)
Limitations: Some
EPDM

, Butyl rubber roofing and other conductive roofing